COVID-19 Notice
Please be aware that, although the content of this guide has been carefully curated, it is almost impossible to keep everything up to date with continuously changed regulations as a result of the global COVID-19 pandemic.
For the latest updates with regards to COVID-19, please check the official Dutch government website: government.nl
How to get to Utrecht? – The best ways to get to Utrecht
Utrecht is very conveniently located, right in the middle of the Netherlands. This has made Utrecht Central Station into both the largest and the busiest train station in the Netherlands. This makes the city very easy to get to, especially by train. Even more convenient is that Utrecht Central Station is right next to the city center. Going by train also ensures that you won't have to spend a lot of time finding a (very expensive) parking spot near the city center. Besides, the fact that getting to Utrecht by train takes less than 30-minutes from Amsterdam Central Station, making it a very compelling alternative to staying in Amsterdam, especially during peak season, or when you're on a budget.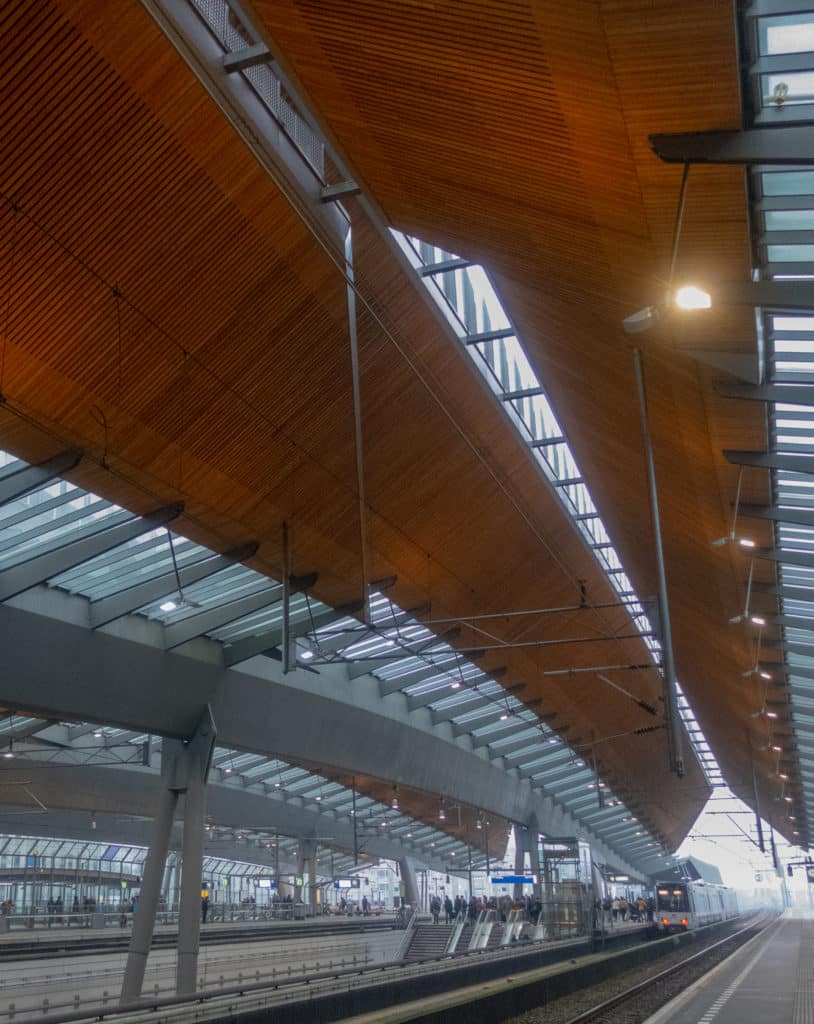 Getting to Utrecht from Amsterdam Schiphol Airport
Trying to get to Utrecht straight from the airport? No problem! The train stops right inside the airport, so it's incredibly convenient. The train that departs inside Amsterdam Schiphol Airport goes straight to Utrecht and takes about 30 minutes as well. It's also great if you have a layover in Amsterdam! I would only suggest visiting Utrecht if you have, at the very minimum, a 6-hour layover in Amsterdam. However, an 8-hour layover in Amsterdam is what I would suggest if you want to really make it worth your while, of course: the longer the better!
If you happen to be one of the few visitors to the Netherlands that arrives at Eindhoven Airport, getting to Utrecht will take you Utrecht about 75 minutes. I wouldn't recommend visiting Utrecht during a layover from Eindhoven, but there are many other places you can visit if you have an 8-hour layover.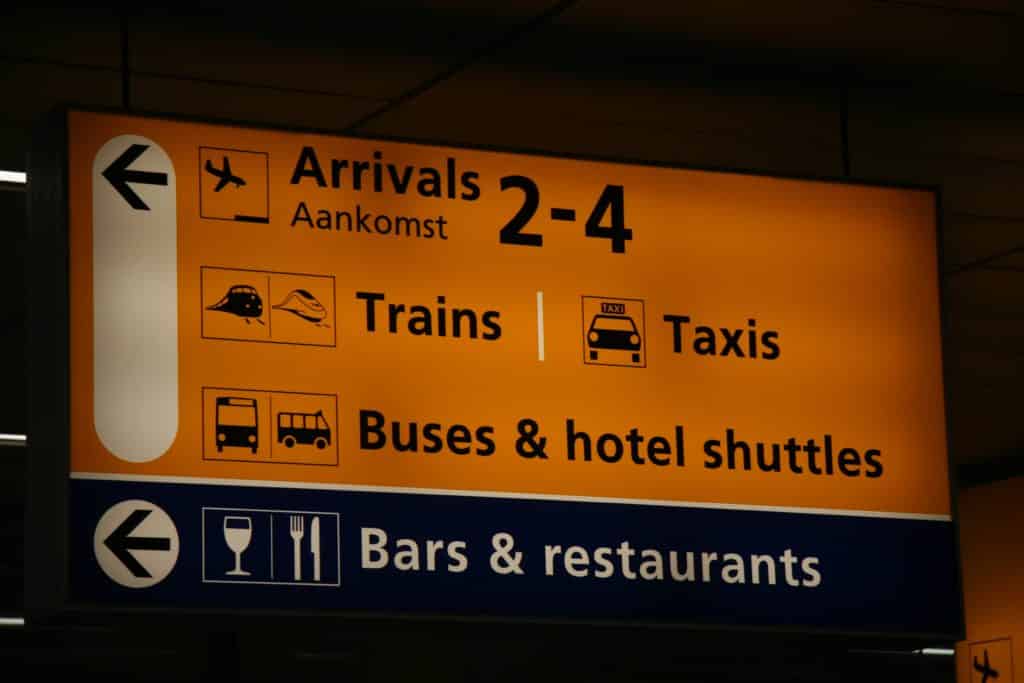 Getting to Utrecht from Germany or Belgium
If you're arriving in the Netherlands by car or by train from Germany or Belgium, you won't need your passport: the borders are 'open', so there's no border control. However, you will still need a passport when boarding a flight to the Netherlands from another European country.
Train schedules & tickets to Utrecht
You can find train schedules, ticket prices, as well as almost all other information related to traveling through the Netherlands by train on the website of the Dutch Railways: NS.nl. Train tickets can also be booked on the website, as well as at any train station. You do not have to book tickets in advance, and seating is not pre-arranged: you can just buy a ticket at a ticketing machine or at the service desk at any train station and hop on the train to your destination.
Best things to do in Utrecht
Almost all items in this guide are within walking distance from the city center and Utrecht Central Station. The Rietveld Schöder House is the item in this guide that's furthest away from Utrecht's city center. I recommend going to every item on this list by foot – unless you aren't able to do so.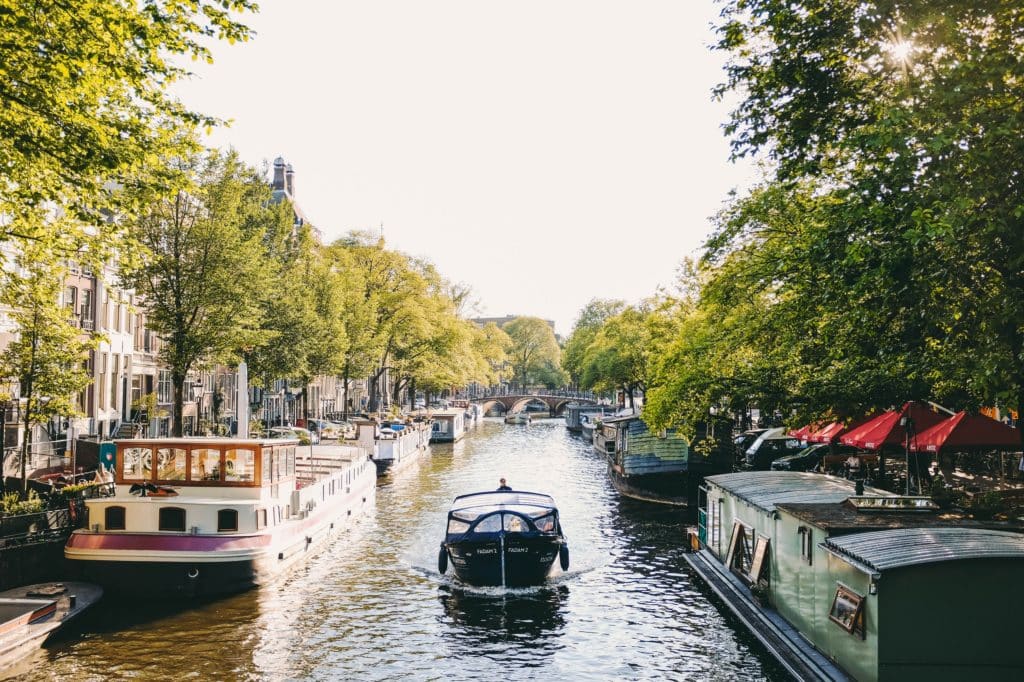 1. Cruise on the Oudegracht
There are lots of options to choose from when it comes to getting on the canals in Utrecht. But it's definitely a fantastic experience, especially since the Oudegracht has lower docks the so-called Werf. The canals of Utrecht, especially the Oudegracht, have been the beating heart of the city for centuries. The lower Werf docks are unique to Utrecht, and there are lots of unique buildings surrounding the Oudegracht. If you're on a budget, I recommend exploring the Oudegracht the Dutch way – by renting a water cycle. There are also lots of places surrounding the Oudegracht that offer tours and boat rentals, which is fantastic if you have a bigger budget or if you're traveling with a (large) group. Whatever your budget or group-size, cruising the Oudegracht is definitely one of the best things to do in Utrecht!
Prices:
Time:

10 AM – 6 PM (Final departure at 4:30 PM) for water cycling, check online for boat- rental and tour times.

Tips:

Smaller electric boats will allow you to go anywhere (even where regular boats are not allowed, like the beautiful Nieuwegracht).
You can often find great discounts on the websites of the boat rental places.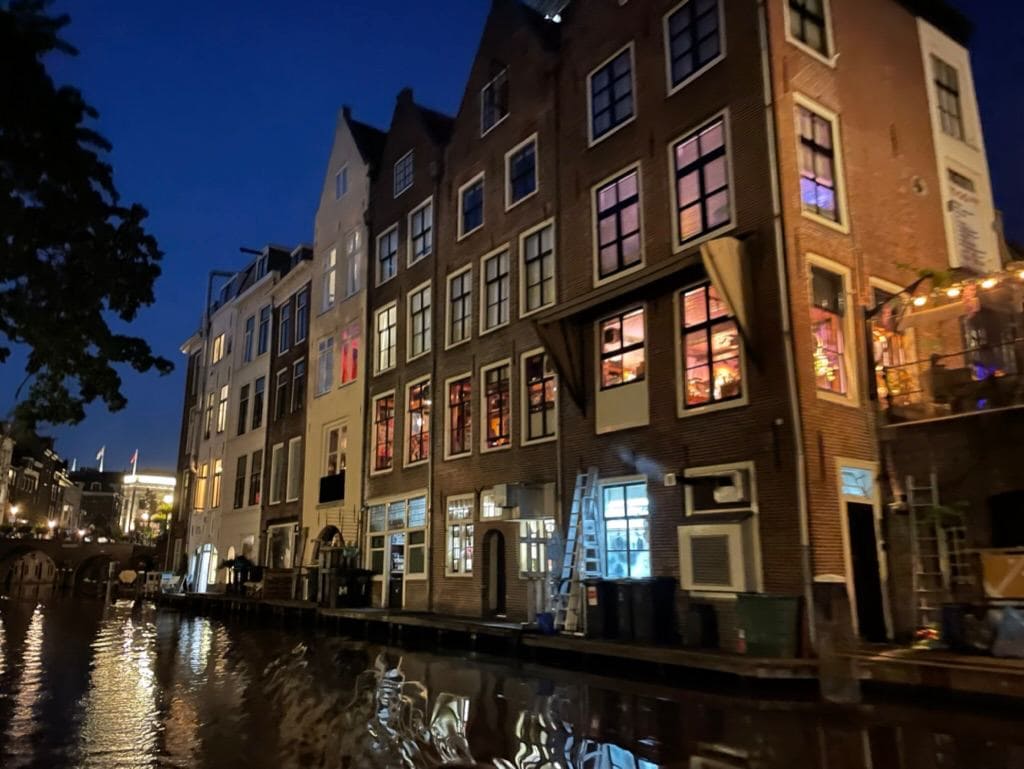 2. Lunch or dinner at the Oudegracht
2.1 Lunch at the Oudegracht
For a quick lunch or snack, Broodje Ben and Broodje Mario are both local hotspots as well. They are located within a 1-minute walk of each other, but you may find yourself in a (very) long line at Broodje Ben's food truck during lunchtime. Both are recommended, however, make sure to try the classic at Broodje Mario if you like Mediterranean food, such as delicious bread topped with cheese, salami, and chorizo.
2.2 Dinner at the Oudegracht
Once it's time for a break and you've done some sightseeing in Utrecht, I highly recommend having lunch, dinner, or at the very least a coffee down at one of the lower werf-terraces next to the canal. There are many restaurants and bars to chose from, some of the best ones are listed below. I recommend Beers & Barrels and Gauchos for dinner and/or drinks in the evening. Whatever your budget: don't skip out on enjoying an amazing meal right next to the beautiful canals. It's definitely one of the best things to in Utrecht and something you just have to experience!
Gauchos is, in my opinion, the best place to eat all-you-can-eat spareribs in Utrecht. They also have a terrace down on the werf right next to the Oudegracht, which is amazing and highly recommended if the weather allows for sitting outside.
Beers & Barrels is great if you plan on visiting with a large group. You can pay for beer by the barrel as well as order from a huge selection of craft beers on the menu – did I mention the food is fantastic? Be warned though, if you've decided to head to Beers & Barrels, be sure to make a reservation ahead of time: it's incredibly popular for drinks and dinner, even during weekdays. Both restaurants are located inside the beautiful authentic werf-cellars that have been used as storage by merchants for centuries.
Prices:

Lunch at Broodje Ben or Broodje Mario: €3 – €7 per person.
Dinner at Gauchos or Beers & Barrels: €20 – €35 per person.

Time:

Lunch: 11:00 – 16:00 (11 AM – 4 PM)
Dinner: 17:00 – 23:00 (5 PM – 11 PM)

Tip:

Tipping is not required. The wait staff all have a decent minimum wage in the Netherlands, however, tipping at a sit-down restaurant is appreciated if you've enjoyed the food and service. Depending on the quality of food and service, a tip of €2 – €5 is normal for regular restaurants.
3. Take a free tour of Utrecht
You read that right: Free tour! Locals give free tours of the city in Utrecht. This a great way to learn about the city's history and do some great sightseeing in a short period of time. The free walking tours in Utrecht are usually in English and the tour guides are passionate locals who volunteer to show you the city. You'll get to see and experience parts of the city that remain undiscovered by most visitors! These tours are a great, non-commercial way to explore the city and offer an authentic way to explore Utrecht. There a different types of tours, some even offer a special Medieval tour and a World War II tour on Saturday and Sunday. There's no need to register for them, just show up at the Dom-tower (or another location if specified!) and make sure you're on time. The free tours usually take anywhere between 1 – 3 hours.
4. The Dom
An extraordinary feat of medieval construction. The Dom-tower is a 112 meter (367 ft) high gothic church tower. It's the highest church tower of the Netherlands and has been for centuries, with the start of its construction dating back to 1254. To this day, the Dom Tower is the highest building in Utrecht and the Cathedral that used to be connected to the Dom once made it the largest church in the entire kingdom of the Netherlands, until part of it collapsed during a tornado in 1674. You can walk underneath the tower, and climb the Dom-tower for a small fee, and there's even a 'Dom Under'-experience.
Price:
Tip:

Most people climb the Dom-tower around noon, however, if you're visiting during winter and going to climb the Dom-tower, make sure you plan your tour as late as possible. The sun sets around 17:00 (5 PM) and if you take the 16:00 (4 PM) tour, you'll be right on time for a spectacular sunset view overlooking Utrecht!
4.1 Pandhof
The Pandhof is a little hidden gem right next to the Cathedral. Most visitors won't know about it, and it's very difficult to find if you don't know it's there! It's a beautiful little garden though, so make sure to stop by.
Tip:

If the weather is nice, the Pandhof is an amazing spot for lunch or a picknick.
5. Janskerkhof: Flower market & Anne Frank
One of the many beautiful squares in Utrecht, Janskerkhof features the 10th-century Janskerk. The square is surrounded by historic buildings. If you find yourself greeted by the smell of beer on the square, you are likely standing in close proximity to the PhRM – the residence of the Utrechtsch Studenten Corps, Utrecht's oldest student society.
5.1 Flower market
There is a super authentic Bloemenmarkt (Flower market) on Janskerkhof every Saturday. The Bloemenmarkt here is frequented by locals and can get very busy. If you're looking to buy flowers in the Netherlands, the offering at this Bloemenmarkt is of much higher quality and offers fantastic value-for-money compared to the Bloemenmarkt in Amsterdam or Lisse (Only 1% of the tulip bulbs sold at the Bloemenmarkt in Amsterdam will actually blossom!). However, note that the Bloemenmarkt in Utrecht is only there on Saturday, between 8:00 – 17:00 (8 AM – 5 PM). If you're really looking to get a great deal, go later on in the day, however, you may find that a lot of flowers are sold out around closing time.
5.2 Statue of Anne Frank
The statue of Anne Frank is right in front of the door to the Janskerk – the large, similarly named church on the square. The statue was placed in remembrance of all victims of the Holocaust and was gifted to the city by the city's youth in 1959. They funded the statue by selling old newspapers and scrap metal. If you'd like to know more about Anne Frank, I highly recommend visiting the Anne Frank House in Amsterdam. I wrote about the Anne Frank House in another article, you can read it over here.
6. Museums in Utrecht
If you're looking for art by Dutch masters, you definitely shouldn't skip the Rijksmuseum and the Van Gogh in Amsterdam, however, Utrecht has some super unique museums which are definitely worth a visit! Some popular museums in Utrecht include the Spoorwegmuseum, the Miffy museum, and the Rietveld Schröderhuis.
6.1 Spoorwegmuseum
The Spoorwegmuseum is the Dutch national railway museum. If you're fond of trains, this museum is fantastic and definitely one of the top things to do in Utrecht. The Spoorwegmuseum features over 120 trains and trams. Visiting the Spoorwegmuseum is especially highly recommended if you are traveling with small children.
6.2 Centraal Museum
The Centraal Museum is the main museum in Utrecht and boasts an impressive and exceptionally broad collection. The collection ranges from contemporary fashion designs by Viktor & Rolf to paintings by Wtewael.
6.3 Rietveld Schröderhuis
Inscribed in the UNESCO World Heritage List since 2000, the Rietveld Schröder House is one of Utrecht's most famous architectural- and design works. It was designed by Gerrit Rietveld for Ms. Schröder in 1923-1924 and has been inhabited by Ms. Schröder until she passed in 1985.
Price:
Students & Teenagers: €9
Children under 13: €3
Time:
Tip:

Due to the limited amount of people that may tour the building at any given time, you may have to book your tickets at least 3 weeks in advance.
A tour with a tour guide is included in the price.
There are two other buildings designed by Rietveld within less than a 1-minute walk from the Rietveld Schröder House. These are definitely worth checking out as well.
7. Utrecht's Nightlife
Utrecht has a booming nightlife, whether you're looking to go to a (wine)bar or cinema, Utrecht will have many options to choose from and there's no doubt that there's one that suits you. On this list, you'll find some of the best clubs and bars in Utrecht, as well as other evening activities.
7.1 TivoliVredenburg
The largest music complex in Utrecht, TivoliVredenburg has five(!) unique concert halls, a café, and a restaurant. Each concert hall in TivoliVredenburg hosts its own musical genre, and with concerts being hosted every night, there's bound to be a concert that you'll love. Check out the calendar.
Tip:

You may get lucky by checking the latest artist announcements, but if you find a sold-out concert on the calendar that you'd love to go to, check out TicketSwap. Prices are limited to a maximum markup of 10% from the original ticket price, so you know you're always paying a fair price. I've used the service many times and highly recommend it.
TivoliVredenburg sells high-quality reusable earplugs for just €3. They're fantastic – protect your hearing.
7.2 Bars in Utrecht
Because of the large number of bars in Utrecht, this list has been divided into two categories: casual and party. Casual bars are often specialized in either beer or wine. They have a laidback vibe, with plenty of seating and some offer live music. Party bars include clubs and bars that are similar to clubs, with DJs, limited seating, and louder music. Most party bars are open until the sun almost rises, while most casual bars are open until around 2 AM. All the clubs and bars listed are in the city center, so you can walk to the bar, and give walking back your best shot…
7.2.1 Party
I would not recommend heading to a party bar before midnight. Most party bars open around 11:00 (11 PM), but you'll find yourself in an almost empty bar if you go before 01:00 (1 AM). You don't need to make a reservation, with some nights at Basis being the notable exception.
Basis
If you're into House & Techno, Basis is the place to be. It's an underground club (literally) with industrial vibes, right next to the Oudegracht in a Werf-basement.
Tickets are available on their website and at the door.
Price:
Time:

Friday & Saturday: 23:00 – 6:00 (11 PM – 6 AM)

Tip:

Tickets are cheaper if you arrive before 23:30 (11:30 PM)
Renting a locker costs €3 (+ €2 deposit). Fits about three coats.
Earplugs available for €4.
Hofman
Café by day, bar by night. Hofman is more of a party bar with house music on most nights, but it also hosts comedy nights every Wednesday and live-music on Thursday night. If you prefer a more casual 'bar-vibe', definitely go to Hofman instead of Basis.
Price:

Free
Entrance fee on 'special' nights

Time:
Woolloomooloo
Known simply as the 'Woo' (pronounced as 'weau' or 'wow'; not 'woo!'), this is absolutely where you should go if you like cheap drinks and lots of students. The Woo has three halls and is the largest student-run club in the Netherlands. A glass of Heineken or Dutch liquor is just €1,40 – by far the cheapest alcohol in Utrecht! But there's a catch: because it's a student bar, you'll need a student card to enter.
Price:

Free. Students with ID & student-ID only.

Time:

Open from 23:00 (11 PM), every Monday, Wednesday, Thursday, Friday, and Saturday.

Tip:

You won't be able to get in without a student-ID & an official ID (passport, driver's license, ID card).
7.2.2 Casual
Wine
Beer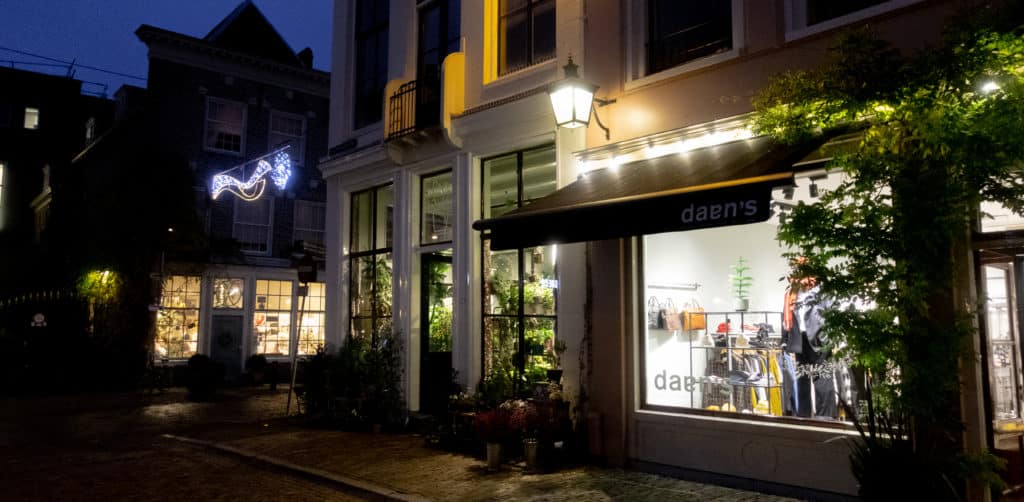 Bonus: Winter in Utrecht
Most items in this guide aren't specifically aimed at wintertime, though most activities are great during winter as well. If you happen to visit in December or early January, definitely check out the indoor ice rink (with "Biergarten") on the Neude-square, and don't forget to check out the amazing restaurants next to the Oudegracht. When visiting Utrecht during wintertime, I highly recommend you check out my winter guide to the Netherlands, which also includes Amsterdam!