How to use public transport in the Netherlands
I know from my own experience that using public transport in a new country can be quite challenging at first. So this quick step-by-step guide will take you through the entire process of actually I'll using public transport in the Netherlands.
Step 1: Getting a card for public transport in the Netherlands
This step is explained in the next paragraph, including this part here would mean that this is no longer a quick step-by-step guide.
In short: you will need to either get an OV-Chipkaart or – in case you're mostly going to be in traveling in Amsterdam for one or more days – an unlimited travel pass for Amsterdam.
Step 2: Charging your card
Note: If you're traveling within Amsterdam and you've purchased the unlimited travel pass, you can skip this step
If you're using an OV-Chipkaart to make use of the public transport in the Netherlands, you will need to to put credit on the OV-Chipkaart. You can do this at any service point. These are located in supermarkets, on most stations for public transport in the Netherlands, like bus, train, and metro stations. You can find a map with all service points here.
Step 3: Checking in and out
Checking in: Tram & Bus
Check-in points are located inside trams and buses. Just put either your OV-Chipkaart or Amsterdam unlimited travel card on the large pink circle, and when you hear a beep, you've checked-in.
Checking in: Train & Metro
Generally, you'll find that there are gates with check-in points at both train and metro stations. You simply hold your OV-Chipkaart on the clearly marked check-in point and the gate will open. Some smaller train- and metro stations don't have gates, so you will need to check-in by putting your card on the large pink circle on some poles that are strategically placed around the stations. The check-in poles located at either the station-entrance or on the platforms where the train or metro stops.
Step 4: Checking out
When you're exiting any mode of public transport in the Netherlands, you do the same thing to check-out: put your card on the large pink circle or on the check-out point on a gate.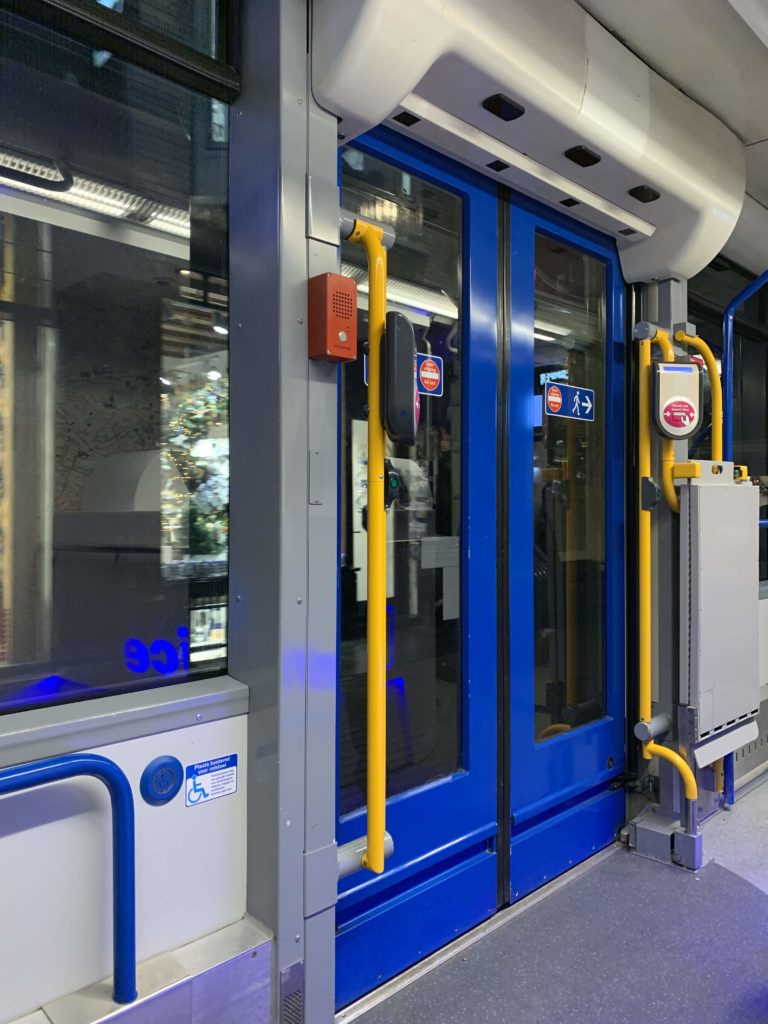 1. OV-Chipkaart
The OV-Chipkaart is the only ticket or card you will need in order to be able to use all types of public transportation in the Netherlands. The anonymous OV-Chipkaart is easy to get and can be purchased at ticketing machines and counters at the train-, bus-, and metro stations. You can also purchase an anonymous OV-Chipkaart at lots of other places, such as newsstands supermarkets, and bookstores. Travel credit can be put on the public transport card at pretty much all train-, bus-, and metro stations. You can find all the service points here. As a general rule of thumb, you can find service stations at most supermarkets (like Albert Heijn) and all public transport stations. You can always pay with a debit card, however credit card and cash are not accepted by all service point machines. Cash is accepted at almost all service counters, but not by most machines. 
Tip: A canal tour is not considered public transport, however, the ferry services that go across the IJ-river from Amsterdam Central Station are a fun experience that's absolutely free!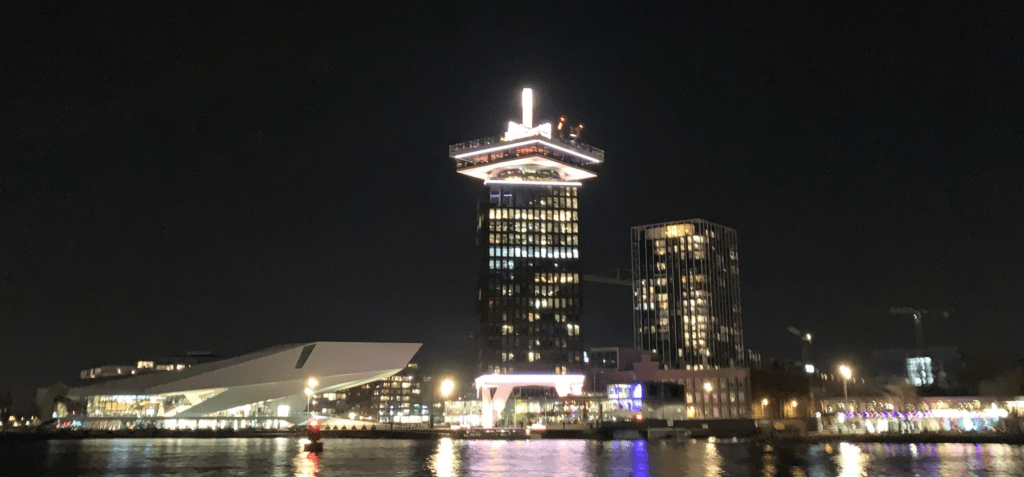 Personal or Anonymous OV-Chipkaart
If you're visiting the Netherlands on holiday I recommend you get an anonymous OV-Chipkaart. It's not personally linked to anyone, which means you can share it during your trip or pass it along to new (or old) friends at the end of your trip. However, it can only be used by one person traveling by public transport at a time, so each person traveling with public transport will need their own OV-Chipkaart when you are traveling simultaneously.
For exchange students, expats, and others who are staying for a longer period of time, it may be worth getting a personal OV-Chipkaart, although an anonymous OV-Chipkaart will also work fine in most cases. The main reason to get a personal OV-Chipkaart is you are getting a public transport subscription because subscriptions can't be put on an anonymous OV-Chipkaart.
Dutch-Tip: OV stands for Openbaar Vervoer, which is Dutch for public transport. Chipkaart literally means card with a chip.
2. Public transportation schedules
You can find all the schedules of all modes of public transportation in the Netherlands online. The online schedules constantly get live updates and in the event of delays or disturbances, you will find that there are online announcements as well. 
If you're wondering where you can check all train metro and bus schedules in the Netherlands I recommend the following websites:
Tip: "Vertrek" is Dutch for Departure. "Aankomst" is Dutch for Arrival.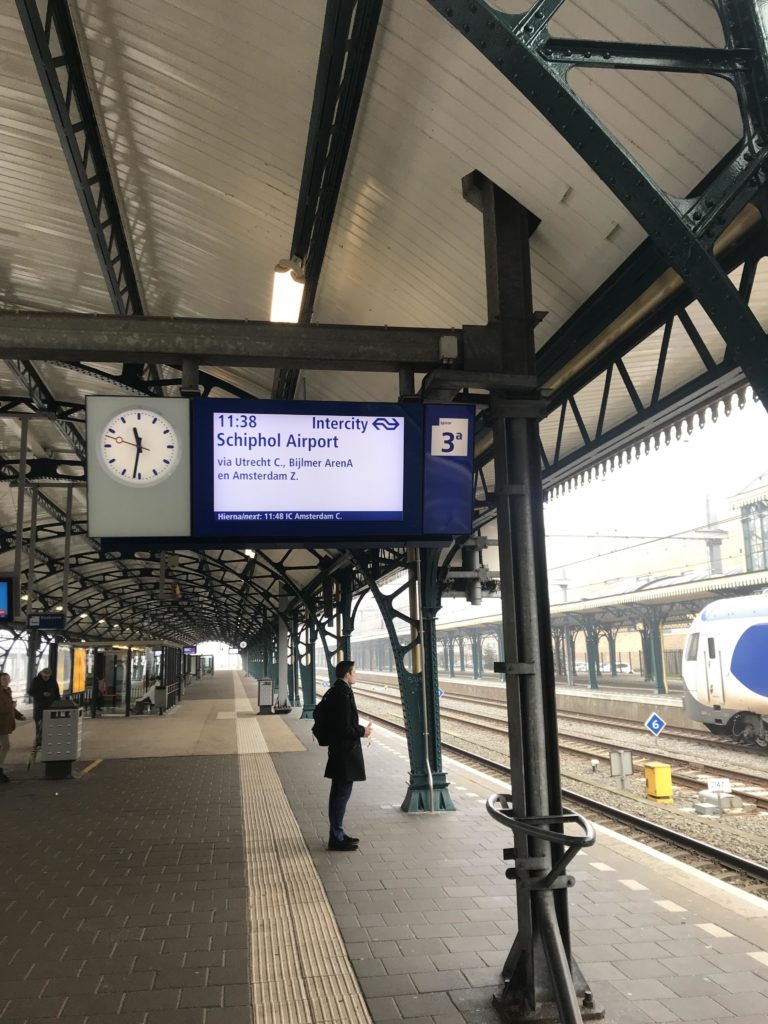 You can fill in your point of departure and your destination to get a complete overview of the public transport journey across all modes of public transportation. Both also have apps, you can find them in the AppStore. I personally prefer the NS App, however many people I know prefer 9292. They're very similar but NS is the official app of the Dutch Railways. Download them here: 
Tip: Dates in the Netherlands are always formatted as follows: day-month-year. Time is always in 24-hour format, so 20:00 is 8 PM.
3. How Trains work in the Netherlands
The difference between trains: Intercity, Intercity Direct, and Sprinters
What's the difference between an Intercity, Intercity Direct, and a Sprinter? There are some particular things concerning trains in the Netherlands that you should be aware of. Don't worry, of course you will find everything you need to know below.
Sprinter and Intercity trains
You may have noticed that there are different kinds of trains in the Netherlands. An Intercity travels from one city to the next without stopping at smaller stations. A Sprinter, however, stops at every small station it passes. As the name suggests: they do short sprints. If you find yourself having to choose between the two, it's generally a good idea to go with the Intercity train. Those are a little more comfortable, have toilets, and won't stop at every station. The difference between an Intercity and an Intercity Direct train is that the Intercity Direct trains go directly to another city without stopping at any of the other cities it passes, however, you will have to pay an extra fee to make use of an Intercity Direct. Almost always a normal Intercity will be the easiest and cheapest option. I don't recommend using the intercity Direct trains as they offer little benefit over regular intercity trains, except that you may save about 10 minutes getting to your destination.
First or Second Class Train Tickets
You might be wondering what the difference between first- and second-class tickets is, and whether or not you should book a first-class ticket. The main difference is that first-class is less crowded, and for good reason: first-class train tickets are much more expensive. At almost twice the price of a second-class ticket, other than basically offering a guaranteed place to sit down during rush hour, there's not much benefit to going with first-class over second-class. There's only a very slight difference in comfort with regards to seating and it's barely worth mentioning that the seats are slightly wider. Public transport in the Netherlands is generally very good, so there's no need to pay a premium for first-class. If you're wondering about the exact price difference between first- and second-class, I'll try to save you some time: a second-class ticket costs about €15, a first-class ticket will cost about €25.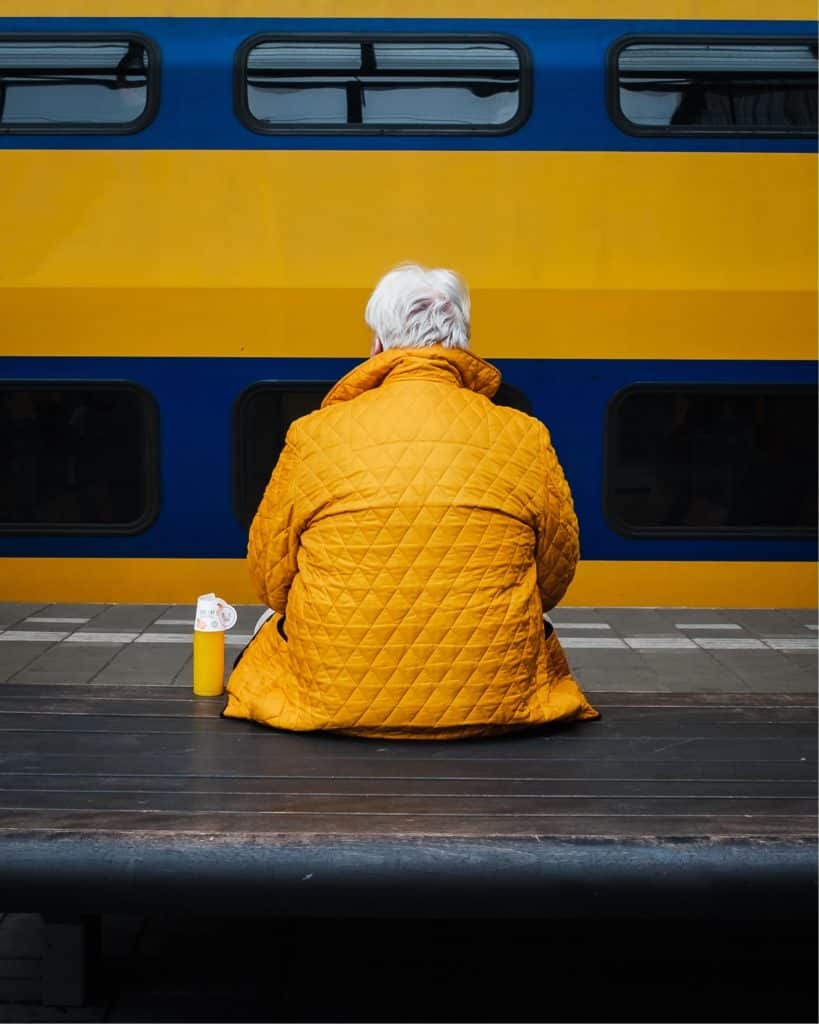 Cheapest Train Tickets in the Netherlands
If you're wondering how to get the cheapest train tickets in the Netherlands, I've got some great advice for you, however, let me start off by saying that it may not be worth the effort unless you're staying in the Netherlands for an extended period of time or have a tight budget and plan on traveling by train a lot. Meaning that if you're only going to travel by train a couple of times and are staying for less than a couple of weeks, it's definitely not worth the time and effort this will require. That's simply because getting cheap train tickets will either require you to get a subscription (which requires a personal OV-Chipkaart, which requires having a postal address in the Netherlands) or you will have to go to specific retailers who run promotions from time to time that allow you to get a one-day return ticket for a lower price – about €15. The first is quite complicated – especially if you're just visiting – while the second option will usually only save you a maximum of €10 – if it saves you any money at all. That entirely depends on where you're planning on going that day. You're required to purchase a special code at the retailer running the promotion and then filling out an online form (in Dutch) in order to get the actual train ticket with a discount. To summarize: getting a discount on a train ticket in the Netherlands is generally not worth your time and effort. 
If that doesn't stop you, and you really want to get the cheapest possible train tickets in the Netherlands, check Google for "NS Dagretour" with either Kruidvat or Albert Heijn. These stores are the only ones who run these promotions and they only have the discount NS train tickets a couple of times per year.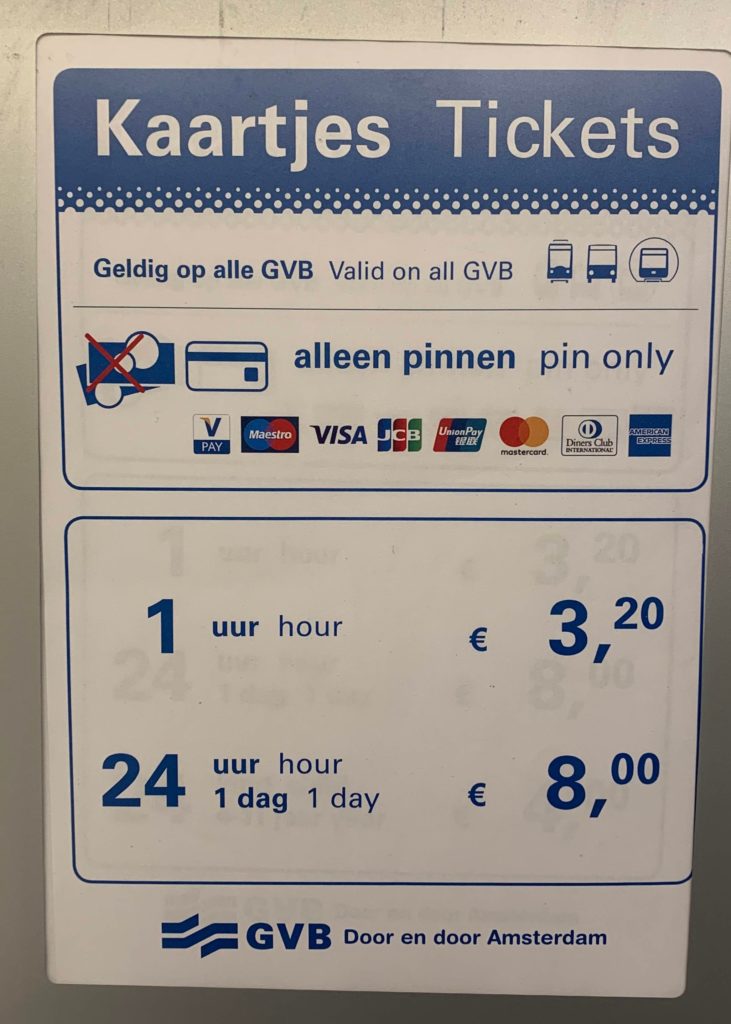 If you don't mind going through the hassle of getting a personal OV-Chipkaart, I do recommend getting an NS Flex subscription, which runs on a month-to-month basis. These are a new type of subscription that was introduced recently to offer Flexible discounts on train travel within the Netherlands. If you are going to travel through the Netherlands by train in 2020, these monthly subscriptions are by far the best way to get a discount and you can change or cancel them every month, depending on your needs. If you're going to take a couple of train trips during your stay in the Netherlands, it's definitely worth considering getting the 'Dal Voordeel'-Flex discount. The Dal Voordeel subscription costs €5 for an entire month and entitles you to a 40% discount on all train tickets in the Netherlands, as long as you're traveling outside of peak hours. The 40% discount is valid on train travel when you check-in from 09:00 to 16:00 and from 18:30 to 06:30 as well as all day on Saturday, Sunday, and public holidays. It's worth it if you make more than two return trips within a month. Do keep in mind that you will need a personal OV-Chipkaart and an address in the Netherlands to ship it to. 
Tip: NS Flex is free and comes with a free OV-Chipkaart, however, there's a one-time €10 registration fee. Another option is to get NS Dal Voordeel, which is relatively cheap and gives you, as well as up to three people that are traveling a 40% discount during off-peak hours. Check the NS site for more details.
Tip: If you want to get an NS Flex subscription you can often use the address of wherever you're staying as the shipping address: ask your host! Most hotels will offer this service. The personal OV-Chipkaart can also be shipped to Belgium, Germany or Luxembourg.
Tip: You can cancel or change an NS Flex subscription every 30 days, so even if you are just visiting for a couple of weeks and plan to use the train often, it's a great way to see the country with a big discount.
4. Public Transport in Amsterdam: The Tram and Metro
Staying in Amsterdam for a few days? I highly recommend getting a multi-day public transport city-pass for Amsterdam. You can pre-purchase it online and will be able to make unlimited use of public transport in Amsterdam. A 3-day pass costs about €19, while a 1-day pass is €8. It is extremely convenient and makes seeing Amsterdam a breeze. 
Trams in Amsterdam
Trams are great because they have their own lines and there's little to no congestion. The trams are a quick hop-on, hop-off way to see Amsterdam and they're extremely convenient. Taking the tram is often quicker and usually much more practical for short distances than other modes of public transport, simply because there are so many tram stops in Amsterdam. A single ride costs a few euros, so I recommend getting an unlimited pass for the duration of your stay in Amsterdam so you won't have to purchase a ticket for every ride and you can just hop-on whenever you like. You can find a map with live info, a trip planner, and almost any other practical information with regards to the public transport system in Amsterdam on the website of the public transport services of Amsterdam, the GVB.
Tip: The NS and 9292 websites and apps include all schedules of all public transport in Amsterdam, so I generally recommend using those.
The Amsterdam Metro system
Traveling long distances through Amsterdam by metro is much faster than taking the bus or tram, however, there are fewer stops. It's a very convenient way to get around extremely busy parts of Amsterdam, such as the part between Amsterdam Central Station and the Rokin. All Amsterdam metro lines are included in the unlimited pass. Check out the GVB website for more practical information.
Tip: If you find yourself taking the Metro, I recommend visiting the Blue line (Noord-Zuid Lijn) at the Rokin-stop. There are some very cool archeological finds at the escalators over there.
Buses in Amsterdam
If there's no other way to get somewhere in Amsterdam, and it's not walking distance, you can always take the bus. Buses are included in the unlimited pass as well, but the tram and metro are much more convenient.
Tip: If you'd rather get out of Amsterdam, I highly recommend checking out Utrecht. Utrecht is a beautiful, authentic Dutch city with amazing canals – and it's just 30 minutes by train from Amsterdam Central Station – and it's managed to somewhat stay under the radar, a real hidden gem if you're looking to escape Amsterdam during the busy summer season!